Yahaira's Cafe
Pasadena, CA
BREAKFAST | LUNCH | DINNER
A father's only desire is to show off his pride and joy.

With the immeasurable love of this father and the indescribable energy of his daughter, Yahaira's Cafe was created. 
Yahaira's Cafe is not only named after my daughter, but it is also crafted after her enthusiasm and personality. 
Bright, chipper, and an amazing energy in the morning.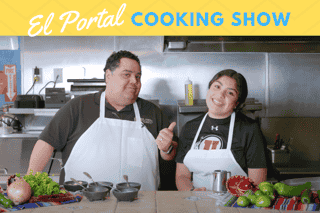 El Portal Cooking Show
In this episode, the owner of El Portal restaurant in Pasadena, Armando Ramirez, teaches his daughter Vanessa how to make chicken Enchiladas two ways.
Pasadena
698 E. Colorado St.
Pasadena, CA 91101

1 hour validated parking when dining with us.
Hours
Wednesday - Sunday:
8:00 am - 3:00 pm